LES SENSATIONS :
Quand on enfile l'armure il y a un déclic qui se produit dans la tête. On a la sensation de l'armure sur tout le corps . Quand on se touche ça fait &laqno; toc ! &laqno;; impossible de se gratter... On sait instinctivement que l'on est protégé, et l'on n'a pas peur de prendre des chocs, même en pleine face. En plus on roule partout. On lit l'espace dans lequel on va évoluer, avec l'idée que l'on va rouler. On va donc essayer de tirer parti de la configuration spatiale. On ne se déplace plus uniquement sur le sol mais sur toutes les surfaces accessibles . Même le plafond s'il est bas, servira d'appui ou de guidage. C'est une véritable transformation. Voire même une mutation. On change d'apparence, on ne donne pas la même identité à son entourage. on ne pense pas de la même manière, on pense avec la capacité de rouler, et surtout dans quelle position on va s'inscrire dans l'espace. Notion de chorégraphie. On est une espèce de &laqno;transformer» proche du projectile qui serait catapulté à toute bombe (balistique).dans un espace qui est déjà habité par des entités en mouvement. on a donc une perception de son corps, de son identité, de l'espace et des autres radicalement différente».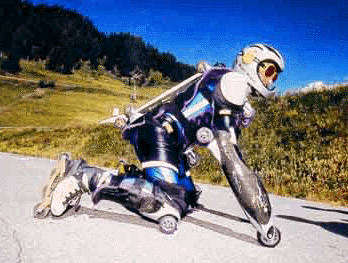 SENSATIONS :
When i pull the BUGGY ROLLIN' up, there is a &laqno;click» in my head. I have the sensation of the armor on my body. If ever i touch myself, it makes a plastic noise : &laqno; TOC !» It's impossible to self-scrape. I instintively know that i am protected, and not scare about shocks, even front crashes. I am now able to roll everywhere. I am a rolling man, touching the world in a different way. My motions are unknown. I look like a robot, a crawling insect, a breathing androïd, a powerfull mutant, and people who see me identify me like this. I am not really human because every thing i touch, i can roll on. i read the space inwich i will evoluate with the capacity of rolling. i wil be able to write a choregraphy while taking adventage of spacial form. I sculpt the space with my wheeling motions. We are in the same space but i am moving in a parallele world. It's a brand new land, i discover it every instant : the buggy rollin' conquest.
IMPRESSIONS DANS LE MOUVEMENT
CARVE : couper le bitume, virer à l'horizontale. Si on ferme la courbe à mort, on peut déclancher un slide et finir en 360 scrabé ou saint. It's so gooooooooooood !
TORPILLE : ça va vite , très vite. Le nez à 10 cm du bitume à 40 ou 50 Km/H, la sensation de vitesse est accentuée . Les piétons sont des géants ! 9 fois plus haut. Les chiens sont des monstres, les trottoirs sont des crevasses.
SQUELETON: C'EST ENCORE PIRE ! On n'a plus les bras pour se guider, pour se protéger, le champ visuel est complètement dégagé, GROSSE IMPRESSION ! C'est vraiment tête la première...
GRENOUILLE : serrer les virages ventre à terre. C'est très maniable, rapide.
LUGE : comme en hiver sur la neige, mais sans neige, n'importe quand, au pied de chez vous, et c'est très maniable.
GOGNOC : c'est un peu fou... Mais à chaque fois, j'éclate de rire.
SNOOP : comme en luge en moins maniable mais plus rapide. en général c'est l'introduction au spin ou bang bang.
STAR WAR : comme dans le film à part qu'ici c'est pour de vrai, pas de trucage. En descente , tête la première c'est hallucinant. Le bitume ronfle sous le dos, les bras et les pieds sont dans l'espace. Ce qui est habituellement la terre, c'est le vide... Tout est inversé, on a l'impression que les gens marchent au plafond avec la tête qui pend en bas; ou le contraire : c'est nous qui sommes collés au plafond comme des mouches avec le vide en dessous. La surface dure, sur laquelle on doit prévoir sa trajectoire, file au raz des sourcils, derrière la tête et dans le dos, en plus comme on est au raz du plafond, elle est toute petite dans le champ visuel. Et bien sûr le massage est compris.
KAMIKAZE : n'essayez pas! Le premier qui droppe une big vert' en kamikaze aura droit à une image ...
SPIN : une balle dans l'espace, ça tourne dans tout les sens, ça devient dur de se situer et d'anticiper mais c'est ça qui est super, on s'y pert, on ne sait plus où on habite. Cest passionnant.
BABALE : la balle rebondit. Le but est de toujours arriver les pieds en premier.
HAWAII : comme dans le rouleau de la vague, on surfe le béton.
DOGS : les murs sont des virages relevés et on appuie. Il faut tangeanter, enrouler avec souplesse et fermeté.
MOTIONS'S FEELINGS
CARVE : cut the bitumen, horizontal turn, draw the curve carressing the floor with the hand wheel. It's possible to close the turn till it slides. you can end the trick by a scrabe 360 or a saint. C'est si bon, si bon, si bon!
TORPILLE : fast! When your nose is less than 10 cm from the ground, at 60 or 70 km/h, the speed sensation is boosted. pedestrian are giant! 17 time higher. Dogs are monster. Pavement are crevasses. if the floor is bumpy, you are shaked in every sens, you must be full concentrated on your trajectory, seem to touch the floor every five meters.
SQUELETON : it's worse! No arm to pilot or to protect.
BIG FEELING ! It's realy head first.
GRENOUILLE : ready to jump like a frog it turns very quickly.
LUGE : like winter sledge without snow,close to your home.
GOGNOC : funny balence sensation. REALY funny.
SNOOP : it's spin introduction.
SPIN : you spin round. The road spins, the sky spins, people spins around you, the head spins, the eyes spins and you must keep control on that. Be carefull to coriolys effect and sea sick!
BABALE : it's like a ball in a pine ball.
KAMIKASE : stop thinking before try it.
STARWAR : the same of the movie but it's true, there is no trick. Down hill head first it hallucinates ! Where is usualy earth, is emptyness. Everything is upside down. People seems to walk on ceiling, head hanging down. Or the opposit: you are glued under the ceiling like a fly with the big emptyness under you wich attracts. The hard surface wich you design your trajectory on, runs flush with the eyebrow, behind the head, and in the back. The floor thrills your spine in a increasing thunder.
HAWAI : like in the waterpipe off the wave: on beton. dogs: powerfull turns if you push the walls and grip asif it was the floor.